Corporate360 Starts Operations In New India Office, Opens India's First Rural IT Park Wholly Owned By A Startup.
Corporate360 , a Kerala based startup has invested $1 Million to set up a new data development center in Pathanapuram, Kerala which will serve as the company's regional data research hub to serve global clients.
The new office has a seating capacity of 150 people, the company said in a statement. C360 India headquarters is bound by MC Road & NH 47, located in central Kerala within a couple of hours from Trivandrum and Cochin International airports and in close proximity to scenic Alleppey back waters.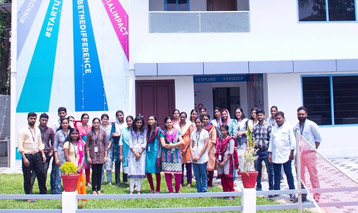 3 years ago, Corporate360 began their start-up journey with a 5-memberteam in a small town called Pathanapuram in Kerala. Corporate360 started operations in a restored tourist home facility. They had been working hard since then and created over 100 digital jobs in rural Kerala and opened Kerala's first rural IT Park wholly owned by startup. It further plans to increase its staff over a period of time.
"As we see a continuation of growth in our large western markets, our focus is to expand coverage in Asia Pacific and become a market leader," Sajeev Pushpamangalam, Vice President and head of businesses, said.
By opening the offices in tier-2 town, the company is promoting Impact sourcing that benefits in meaningful job creation and digital skill development among educated youth from rural areas. Graduates from rural areas no more need to move to the big cities for work or internship means no more talent drainage of the educated youth from rural areas.
Also read: Kerala-Based Big Data Startup Opens New Office, To Hire 100 Data Analysts
There is an opportunity to leverage digital economy on a permanent basis to create employment, improve the confidence & digital skills of young people from smaller towns and C360 is setting an example for this in Kerala by expanding their offices in tier-2 towns.
About Corporate360
Corporate360 offers a SaaS based marketing data cloud software for B2B marketers to help discover sales leads & competitive intelligence. With 40 executives in 5 countries, the company is a fast growing startup with over 300 global customers.
Contact us: impact@corporate360.us,0475.201.5904